Need advice about finances during these
times?
Not sure what to do about investments?
Joy Durrant is an Accredited Investment Fiduciary™. In simple terms this means she has undergone specialised training focused on helping trustees and individuals follow careful A – Z steps in their development of investment plans, assessment and selection of providers and monitoring of results. That A – Z map is objective, it can be used by small and large investors alike, and allows individuals to determine whether something being recommended is in the best interests of themselves, their trust or their community.
Looking for a financial adviser who will listen to your needs, advise whether she can assist, and provide what she considers to be the best possible recommendations?
For un-biased guidance, planning, modelling and advice, contact:
Joy Durrant
(MBA, DipPFinPlan, PGDPM, CFP, MinstD)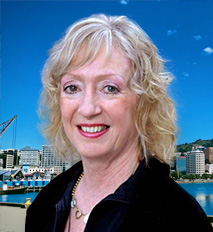 "No Bridgecorp, no Strategic, no Hanover… thank goodness! Thank you Joy!!""

Jane and Peter

Family Trust clients, Wellington
We offer a wide array of financial services aimed at simplifying your life
Our mission is to ensure that your investments are SAFE, SOUND and SECURE
SAFE | Very wide diversification – 4000 to 5000 share-market holdings world wide. All fixed interest is rated AA or AAA at the time of placement.
SOUND | Evidence based investment principles.
SECURE | Public Trust acts as NZ based custodian and supervisor.  Citicorp and PNB Parabis act as international custodians.
"We would like to thank you and the Financial Prosperity Partners team for the professional way you have managed our life savings during this difficult year. Although we did lose a little of the interest gained during previous years, we never got to a stage of losing any of our original investment (unlike some of our friends who invested elsewhere). We are so pleased we did not panic and withdraw from this fund, as we are now seeing positive signs of growth. We have appreciated the reassuring letters, phone calls and meetings during this year. Thank you."

Annette and Errol Frewen

Queenstown
"The trustees are pleased that the Trust portfolio established by Joy Durrant, AIF® meets all international fiduciary standards of excellence in its structure and reporting. We are also delighted with the results achieved and expect our commitment to structured asset class investing to be long term, which will deliver enormous benefits to our communities."

Roger Styles

Former Lower Hutt City Councillor - Past Chairman, Hutt Mana Charitable Trust.
"No Bridgecorp, no Strategic,
no Hanover… thank goodness!
Thank you Joy!!"

Jane and Peter

Family Trust Clients, Wellington
"Dear Joy,
I am very pleased to inform you that you have been awarded the Financial Advice NZ Trusted Adviser mark. Alongside our pinnacle marks this new designation shows the public that your high level of qualification, experience and ethics has been recognised by a professional body.

The public launch of the Trusted Adviser mark is scheduled for February 2021 to coincide with the new financial advice regime start on March 15. However you are welcome to use the mark now. I invite you to download the image files and the guidelines using the link below. We have updated your records on our system to show you have been awarded the Trusted Adviser mark and this, alongside your pinnacle mark, will be noted on your public profile page on the Financial Advice NZ website.
Congratulations again on being awarded the Trusted Adviser mark."

Katrina Shanks

Financial Advice NZ
Talk to Joy Durrant today.